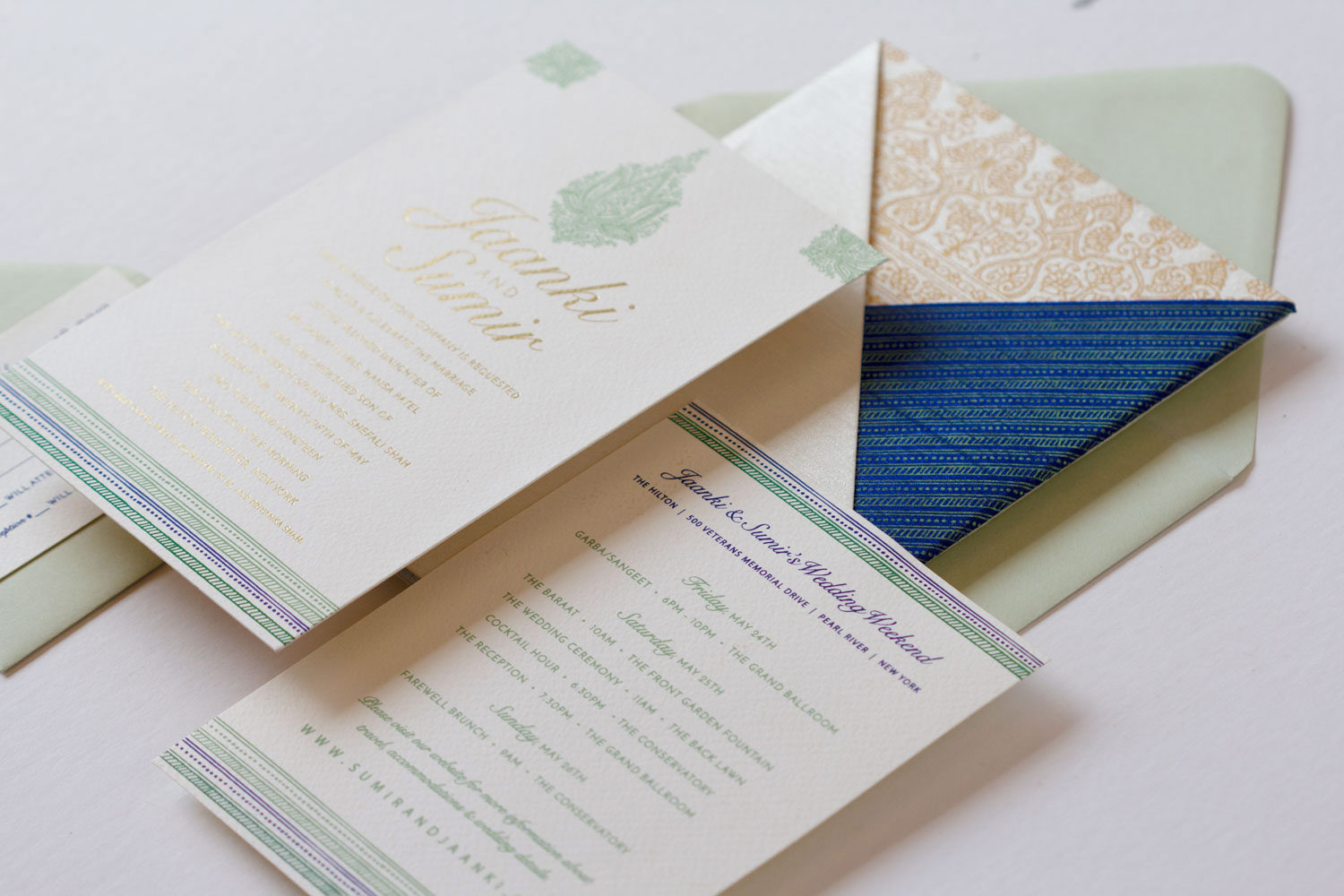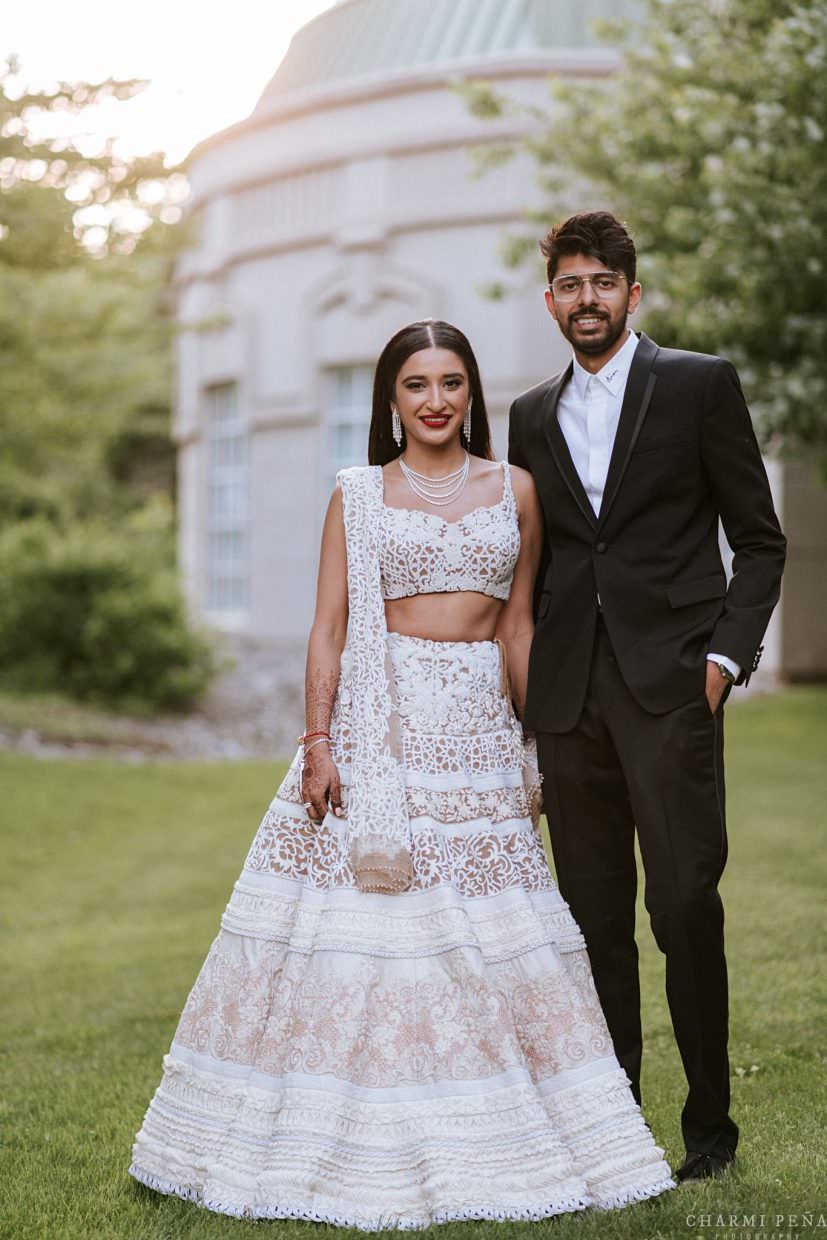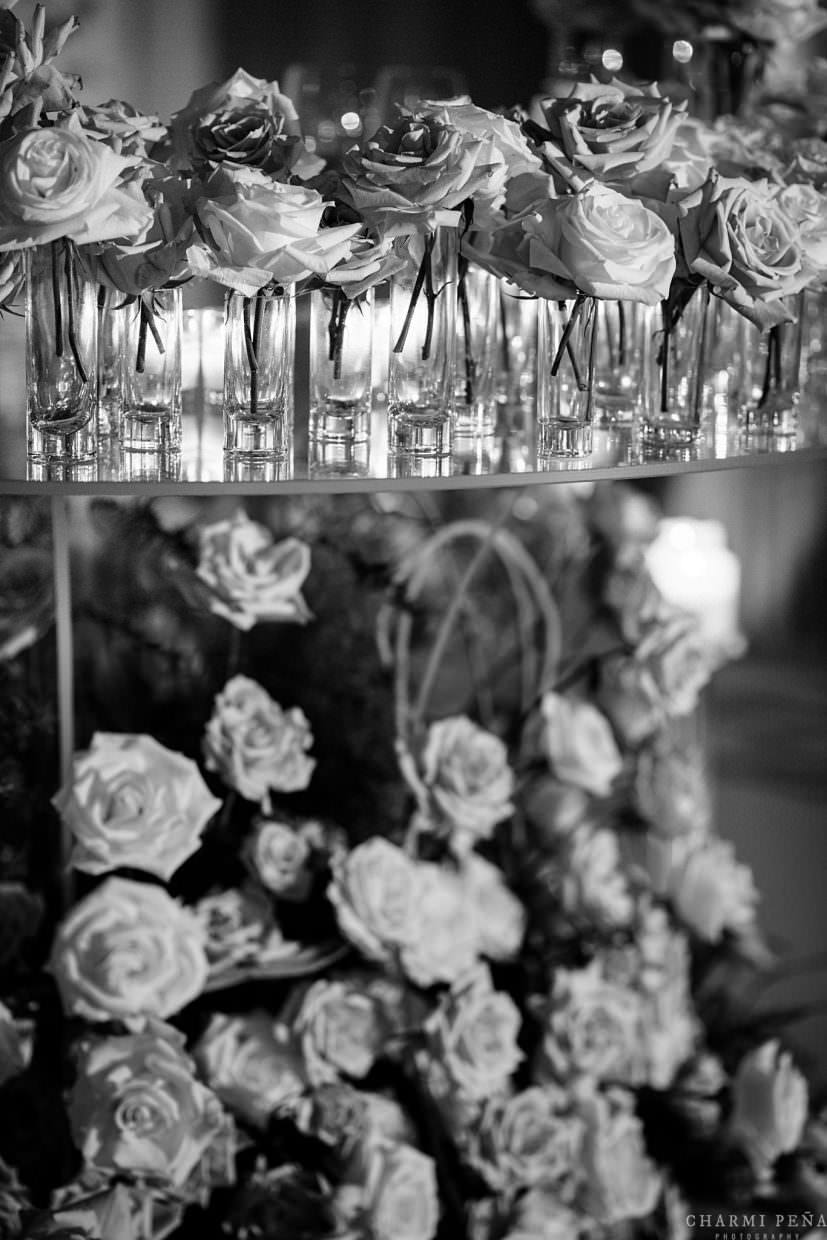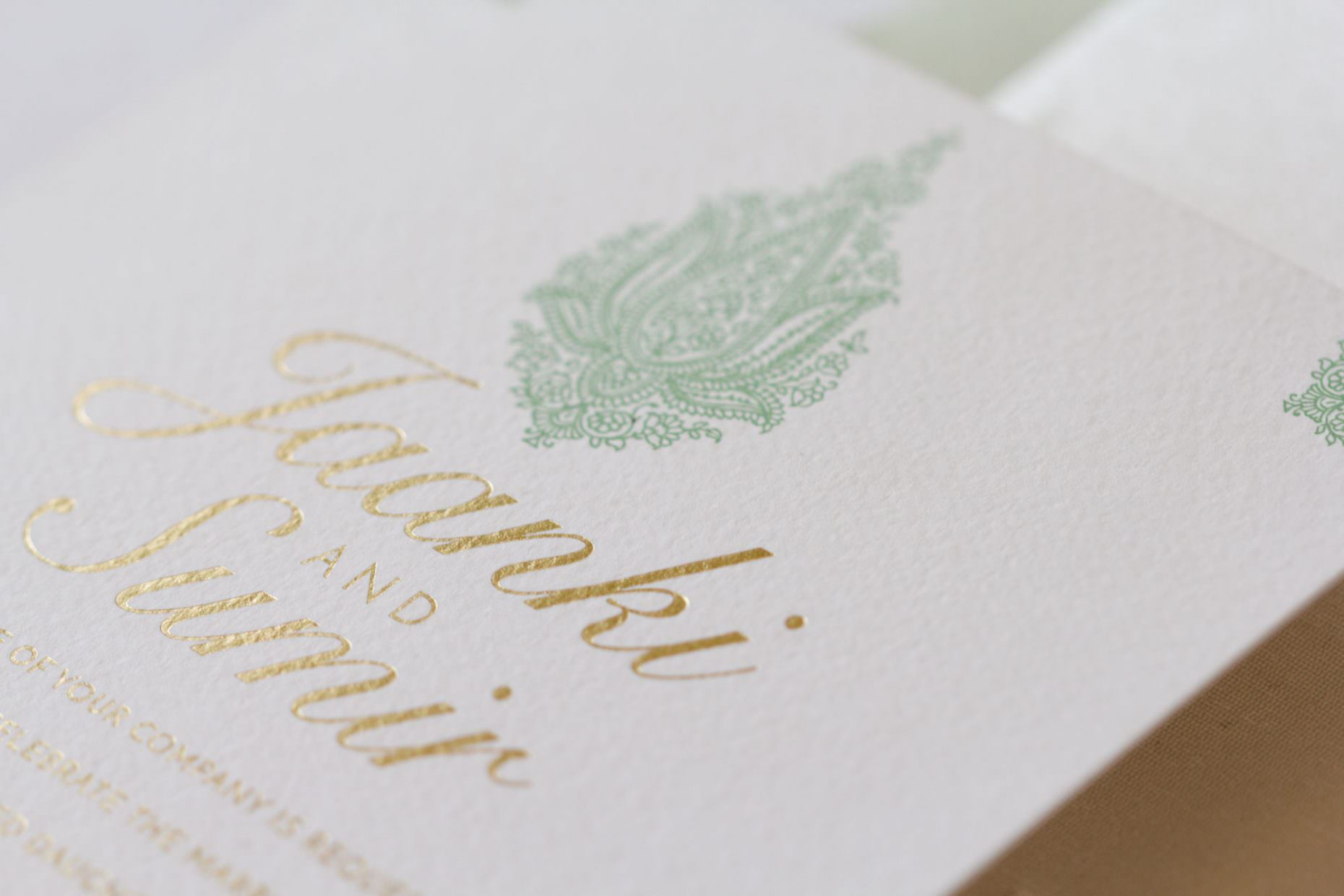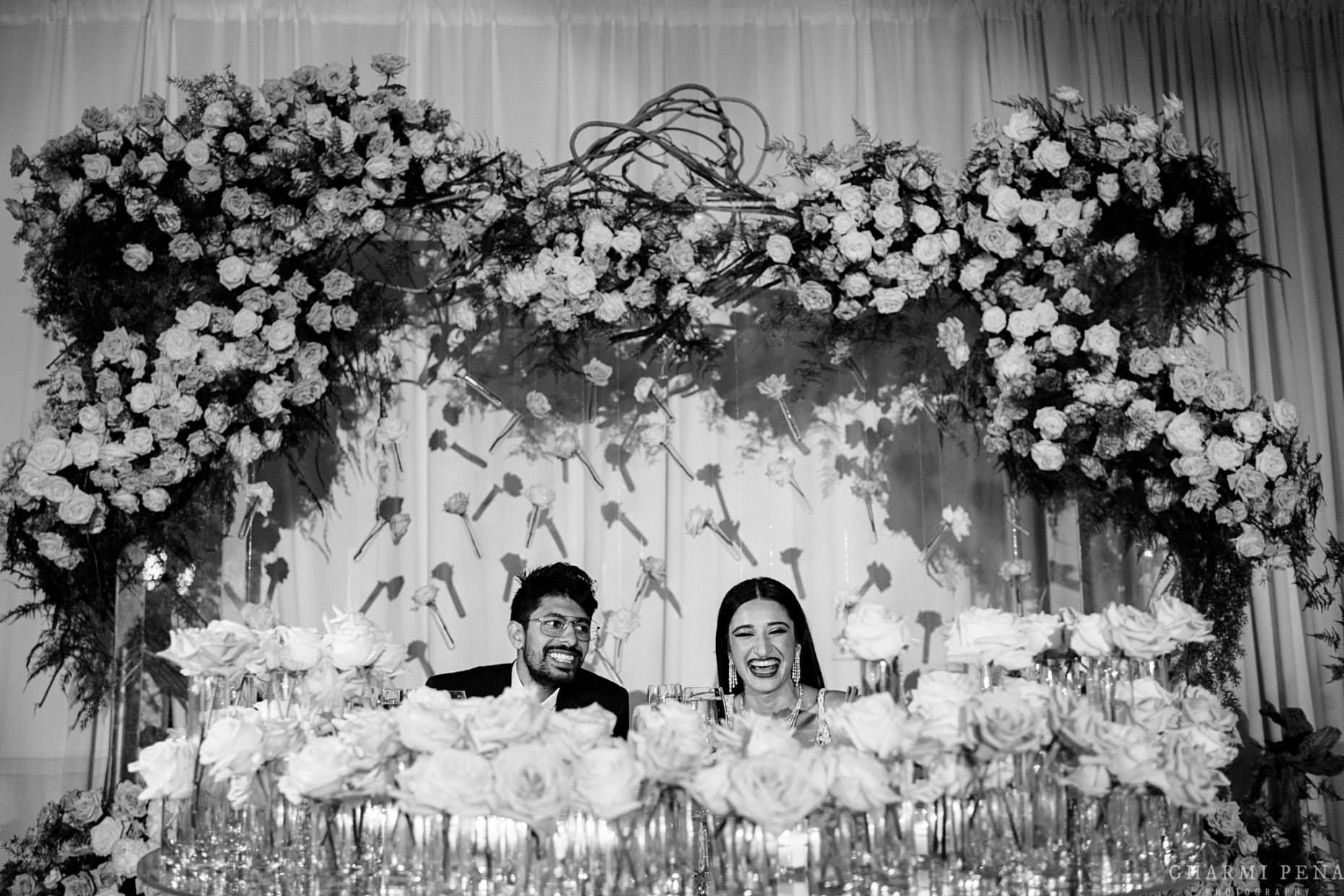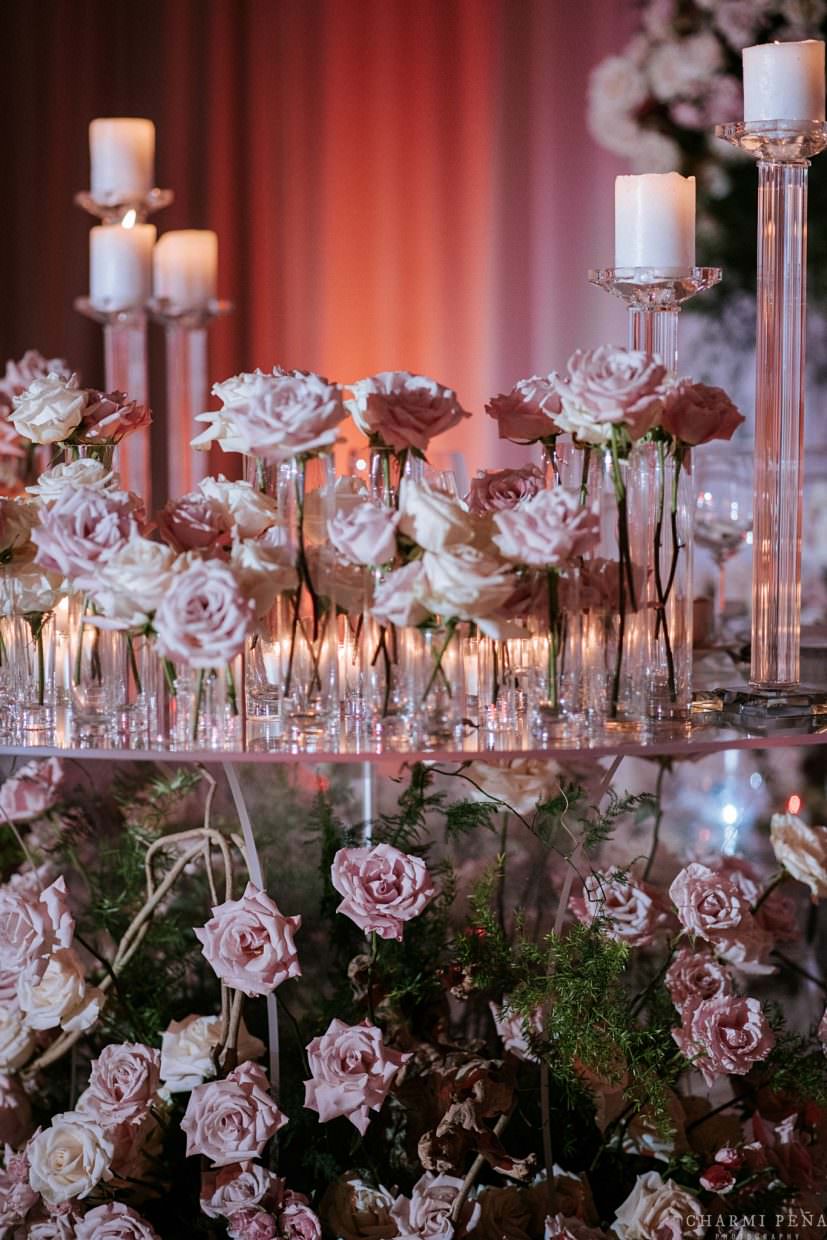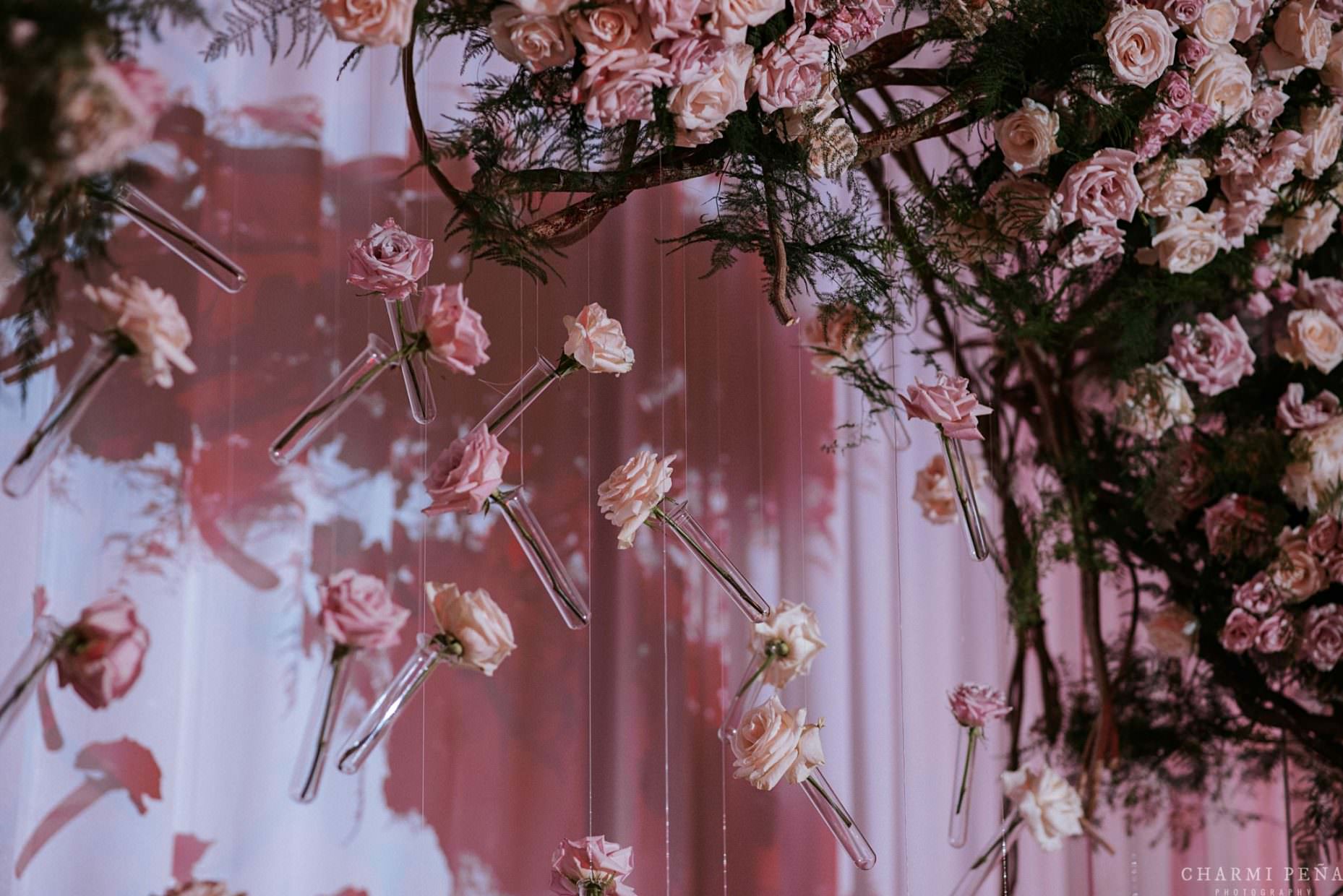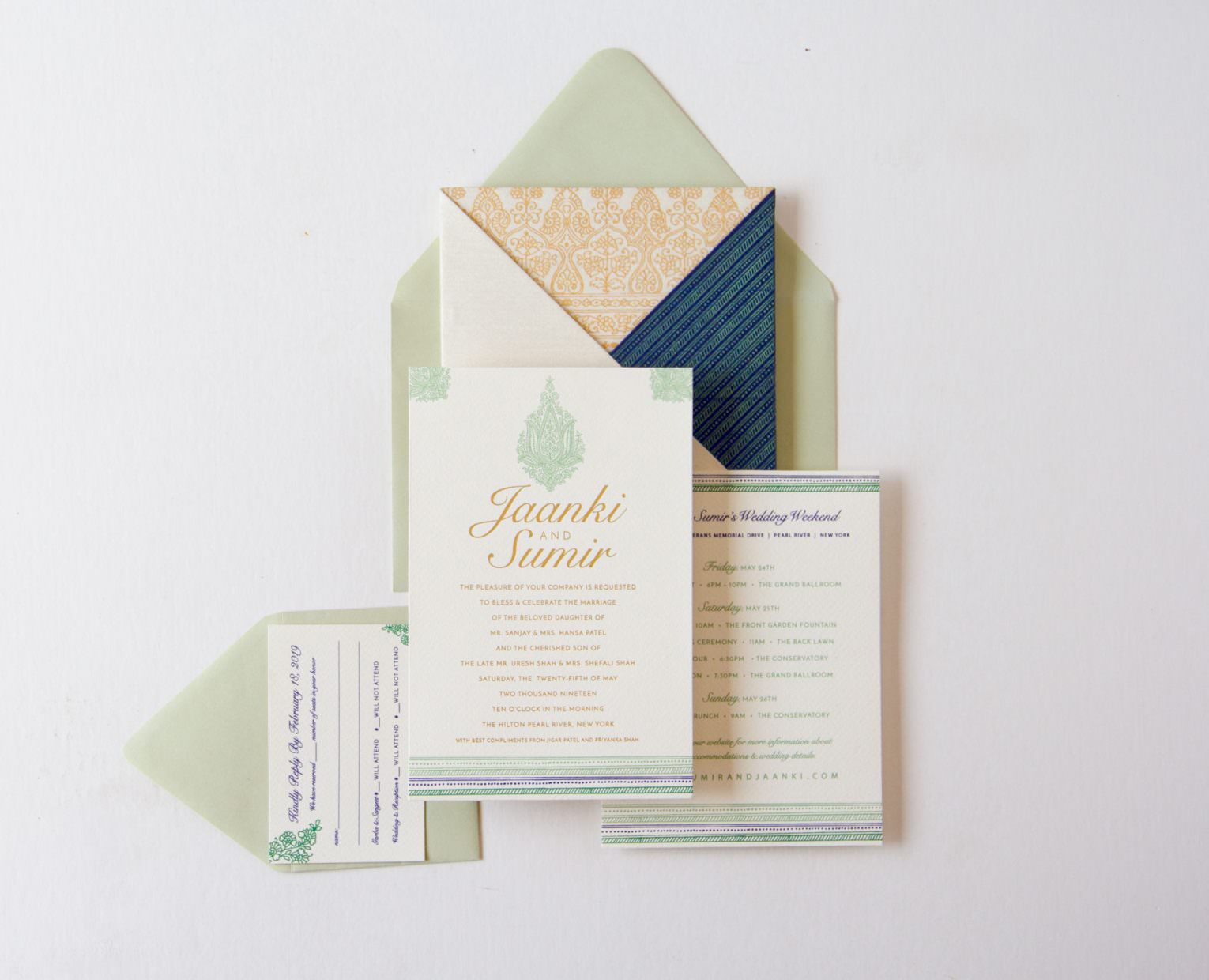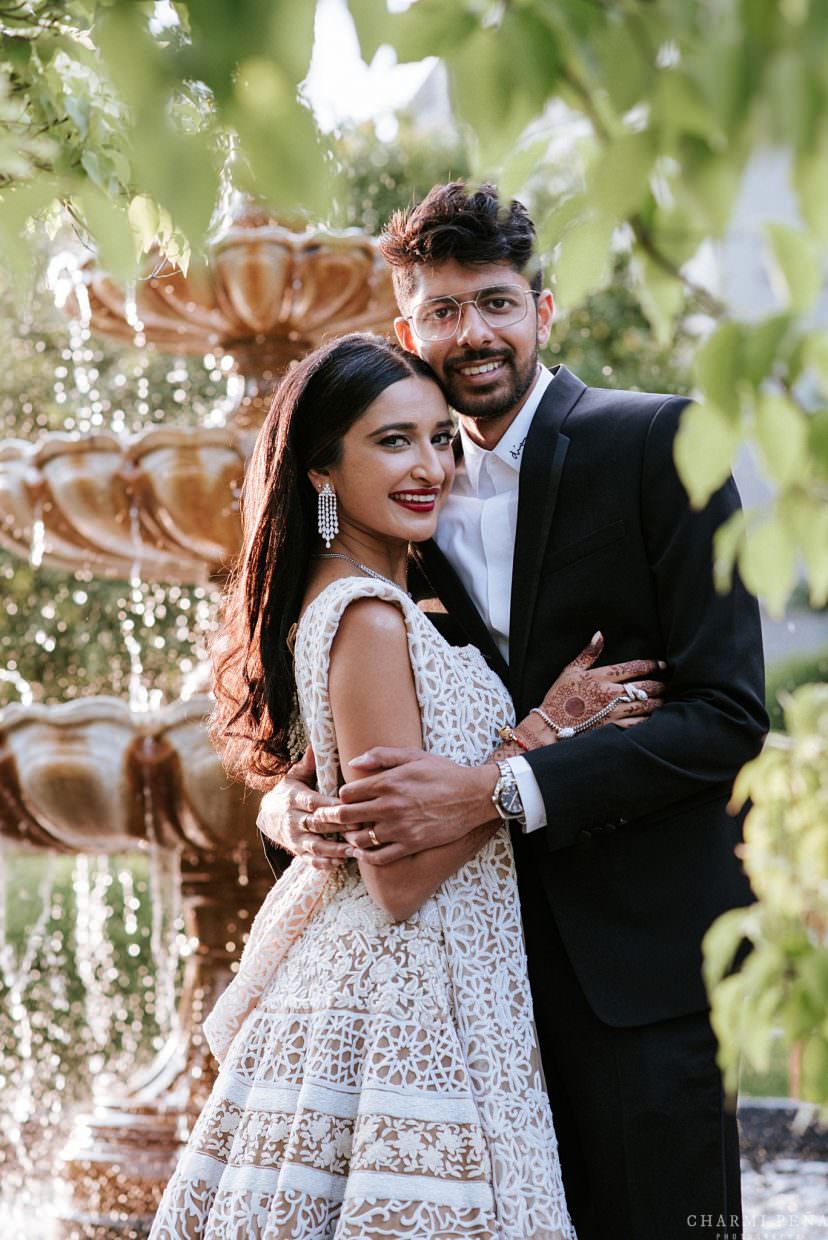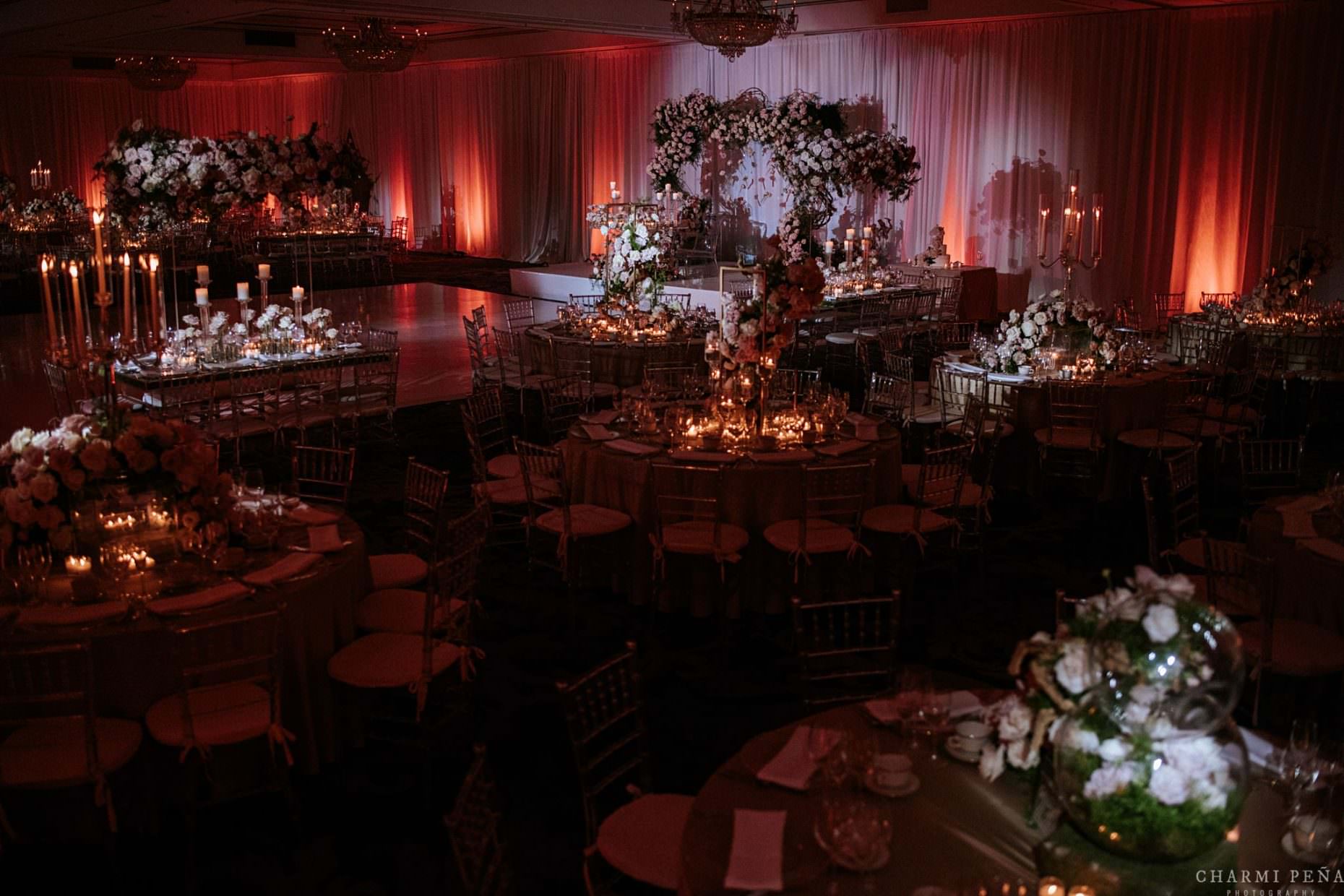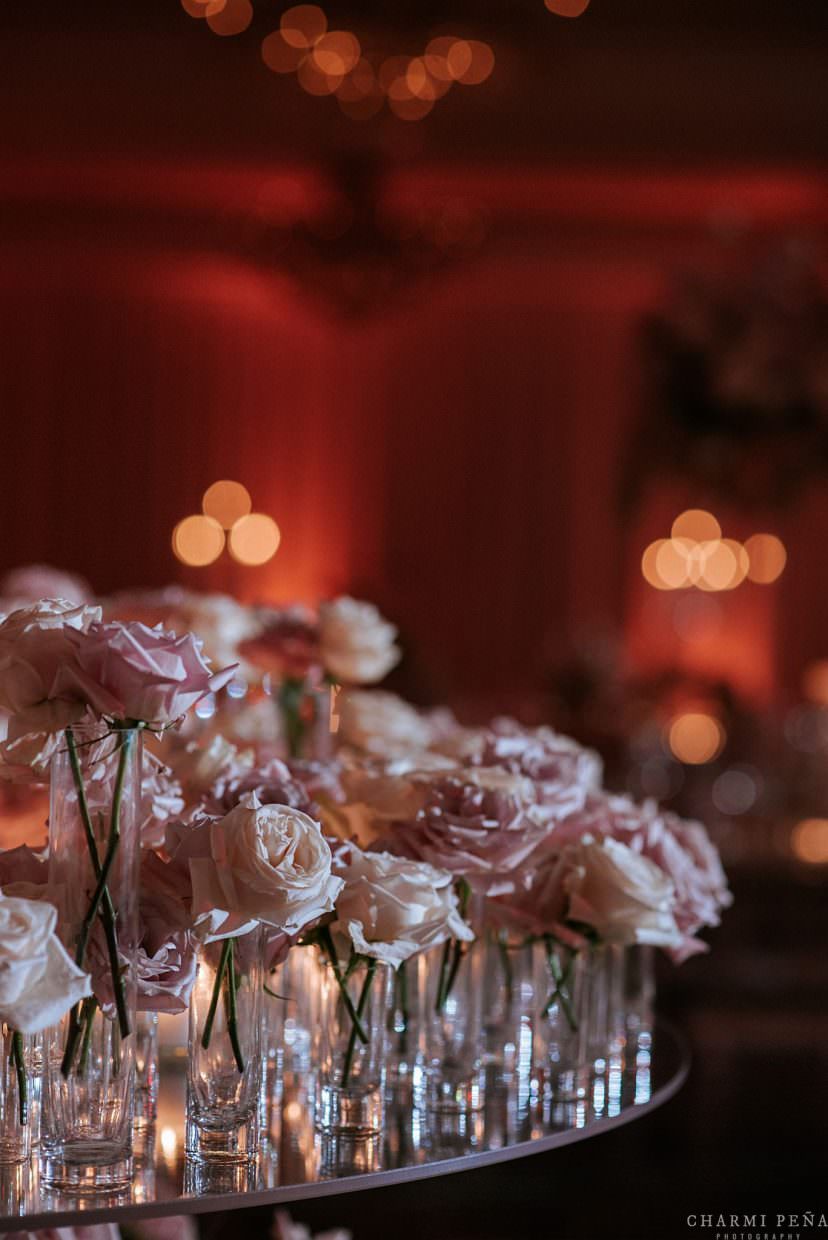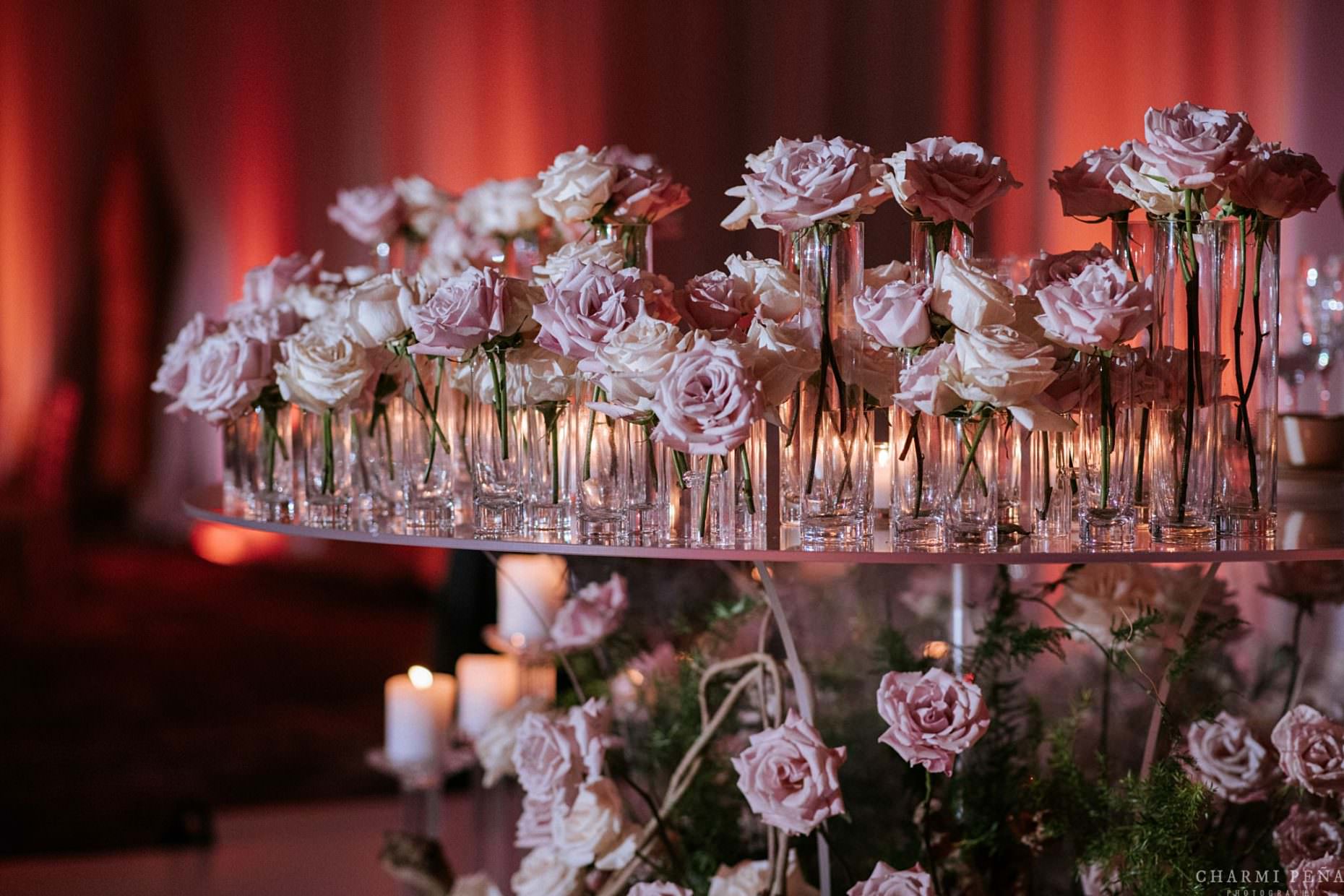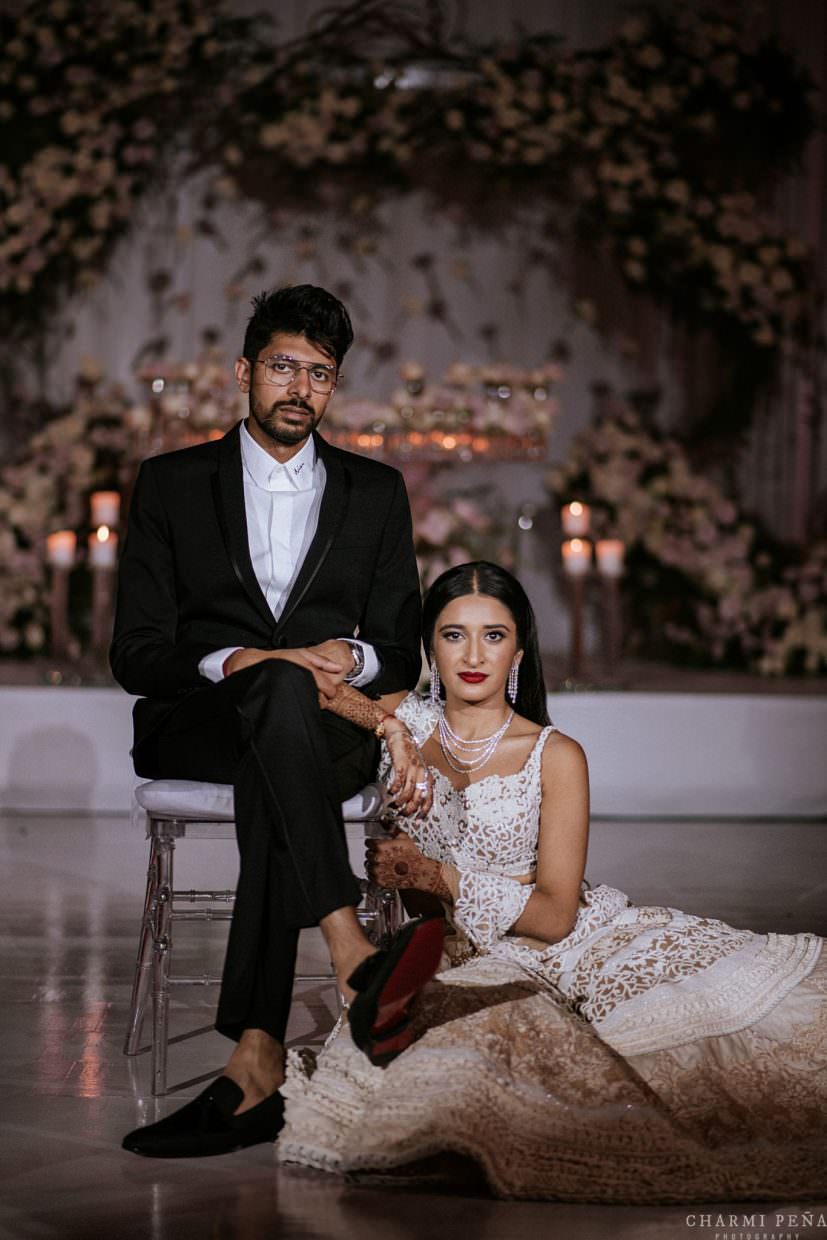 A Romantic Driftwood & Rose Wedding Reception
Take a deeper look into Jaanki & Sumir's extravagant wedding
Typically, a wedding reception is an extension of the love displayed throughout the day. It is a time to be social, engage, dance, and celebrate the life and unity of the new bride and groom with their blended families.
For New York couple Jaanki and Sumir, it was a time to strip back the vibrant colors and traditional rituals of their multi-cultural Hindu wedding ceremony and invite a softer, serene space.
"We're shooting for a very traditional welcome night," Jaanki explained prior to the wedding. "I'd love for our parents and the older generations to feel like they are taking a stroll through their fields and villages. For the ceremony, I want a secret garden type of feel. Whereas the reception, that's where I want the romance to be felt."

Playing into the elegant and whimsical style within the ballroom at the Hilton Pearl River Hotel in New York, the room was filled with iridescent rose gold lighting, driftwood arrangements and soft touches of pink and white roses. It was a classic, enchanting evening that tied together their full day of Hindu celebrations with their own chic and timeless styles. We sat down with Event Designer Reema from RB EVENT DESIGN to chat about this epic wedding!
Before we jump into the reception, can we go through and talk about some of the specific style elements throughout the wedding events, and how they combined tradition with their own fashion.
"Starting at the Sangeet, most brides will opt to wear a lehenga or a really long gown. Instead, Jaanki chose this below the knee gown that would allow her to bring in this flair with her really amazing shoes. You'll just notice everything was very unique and brought together their flavors. If you take a look at the Sangeet photos, her outfit, her shoes, and even her hair was a different style that you don't typically see brides wear. We did this cool design with these silver bobby pins, so when you look at it it's just a very unique approach of bringing her look together. I'm not usually always a part of these conversations, but she brought me into them because she wanted to be sure that I was aligned in her vision.
Sumir also has that eccentric taste, so if you'll notice his glasses are different through each part of it. With his outfits, he also made sure they were in line with his taste. Whether it was his tuxedo for the reception or his wedding dupatta, which apparently he took longer than Jaanki to pick out. [Laughs] So the look they pulled together was really tailored and specific to them.
Her reception look was an absolute show stopper. Literally, your heart skipped a beat when you saw her. It was such a stunning outfit and very unique to what I typically see a lot of my brides wear."
@AteierAzure: Yes, it was absolutely stunning. Who was the designer again?
Reema (@RBEventDesign): "Rimple and Harpreet. They are a custom boutique shop in New Delhi, India."
@AteierAzure: For the reception decor, I love the contemporary structure with the driftwood and roses, it is so beautiful. Is this something that was a strong vision from the bride and groom or was it pitched by the wedding team?
It was a combination. I mentioned the venue was very classic, the ballroom itself was spectacular. So what they did was, we had cocktail hours outdoors and indoors and then everybody came into the ballroom for the reception. We wanted a bit of a modern feeling even though the chandeliers had that rustic, elegant feel. Initially, we talked about draping the whole room in white, but we decided to do the back part so when guests walked in they still felt modern white summer feeling.
@AteierAzure: Now that brings us to what Azure helped out with, which was the invitations and monogram. We WERE SO THRILLED THAT YOU THOUGHT OF ATELIER AZURE:
I personally thought that you'd be a really great fit. You know how I feel about your work and how much I admire your art. [Laughs] You do a really good job of understanding what the client needs and wants, and then weaving that creatively in what you do overall.
Thank you! You know how much I admire your work too. I'm so happy I was able to meet Jaanki and Sumir in person at my studio. It was great to connect with them and to get a feel for who they were individually and as a couple.
For the overall design and aesthetic of their invitations, I think it was great that they got to meet you in person and feel comfortable working with you. You both were able to feel each other's energy and I think creatively that's always important to feel someone's sentiments. When you created the monogram and their invitations, what I absolutely loved, was there was a glimmer of traditional and still brought together the couple's vibes. The clean lines mixed with the old-world romantic feel.
I remember there was an insert in one of the invitations that had an itinerary of the events, and I think that was so nice for people to look at and refer to. I think your approach was just very clean and accomplished everything that Jaanki and Sumir wanted.
to be continued....