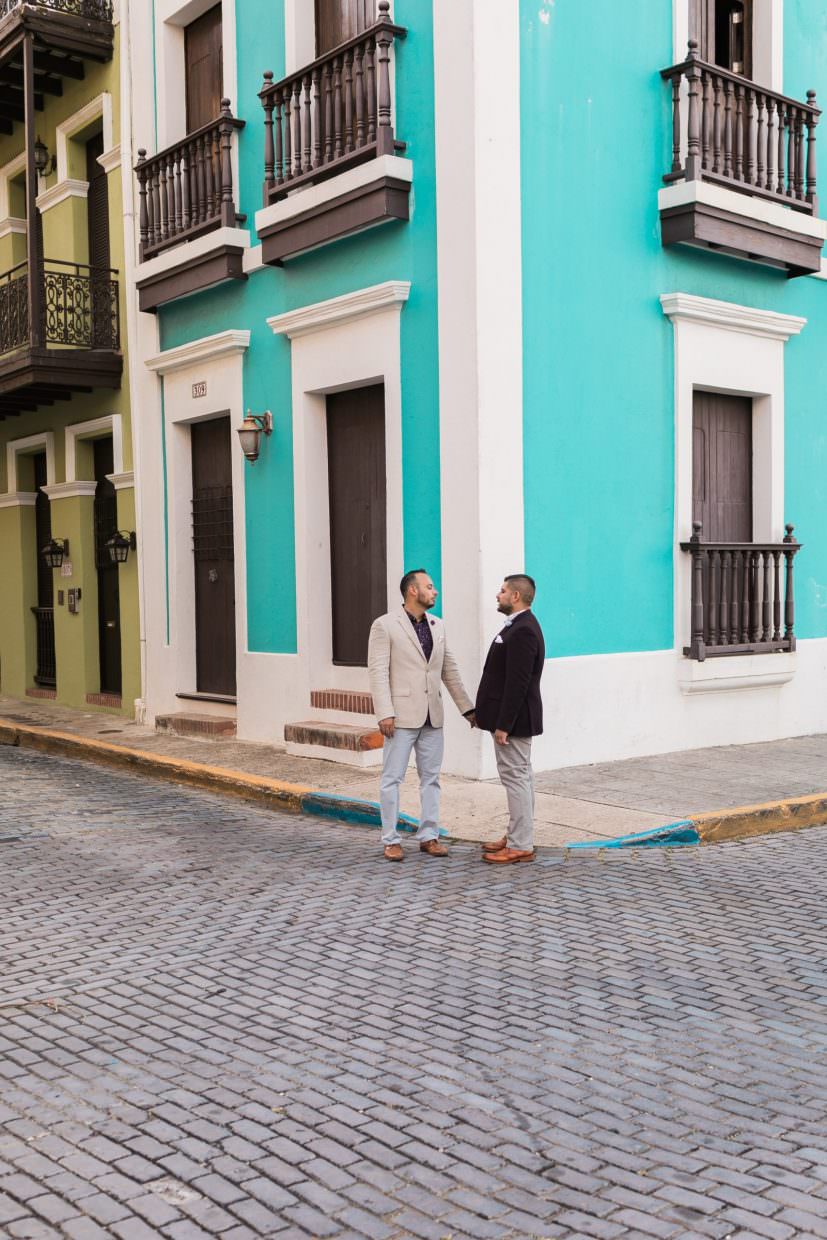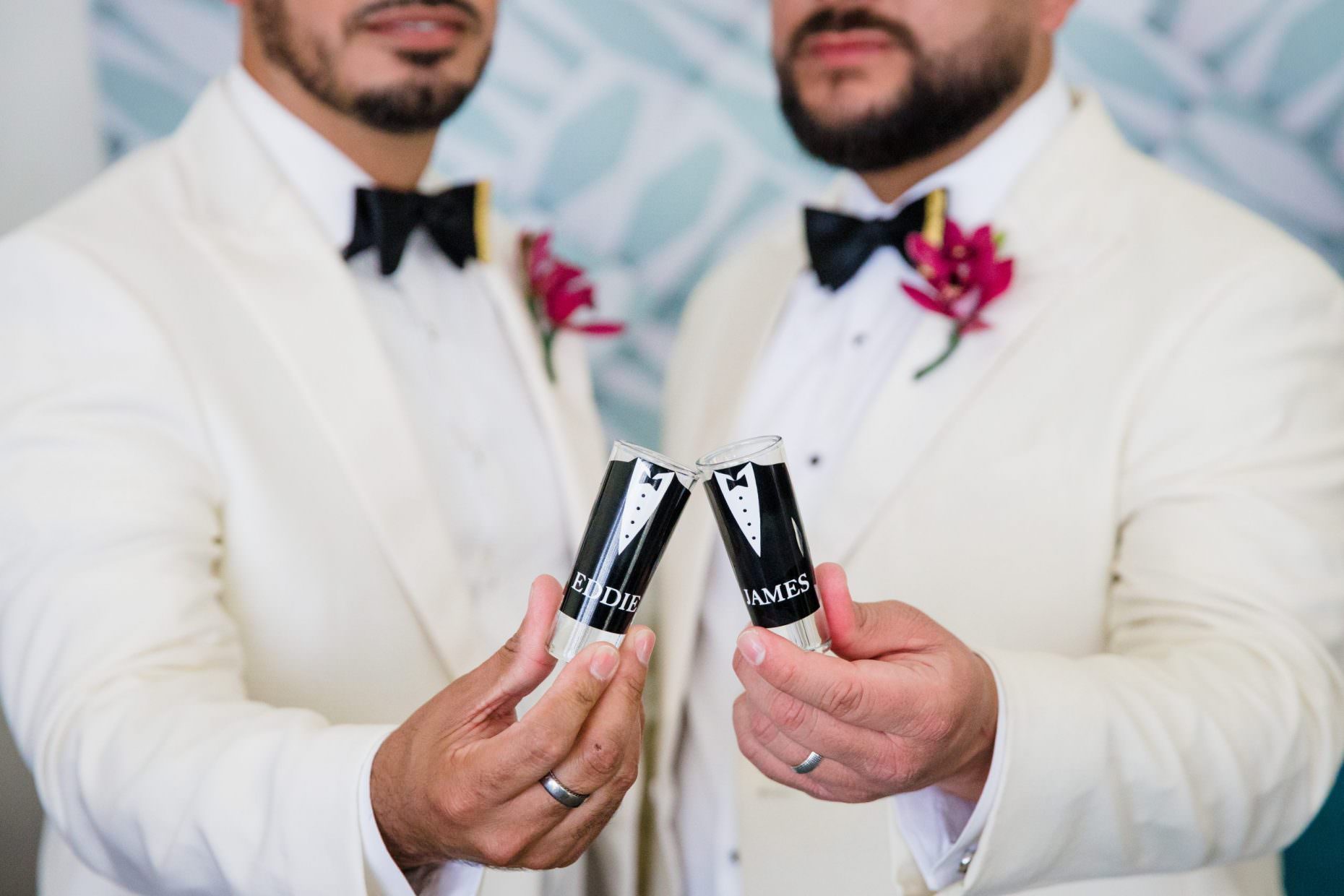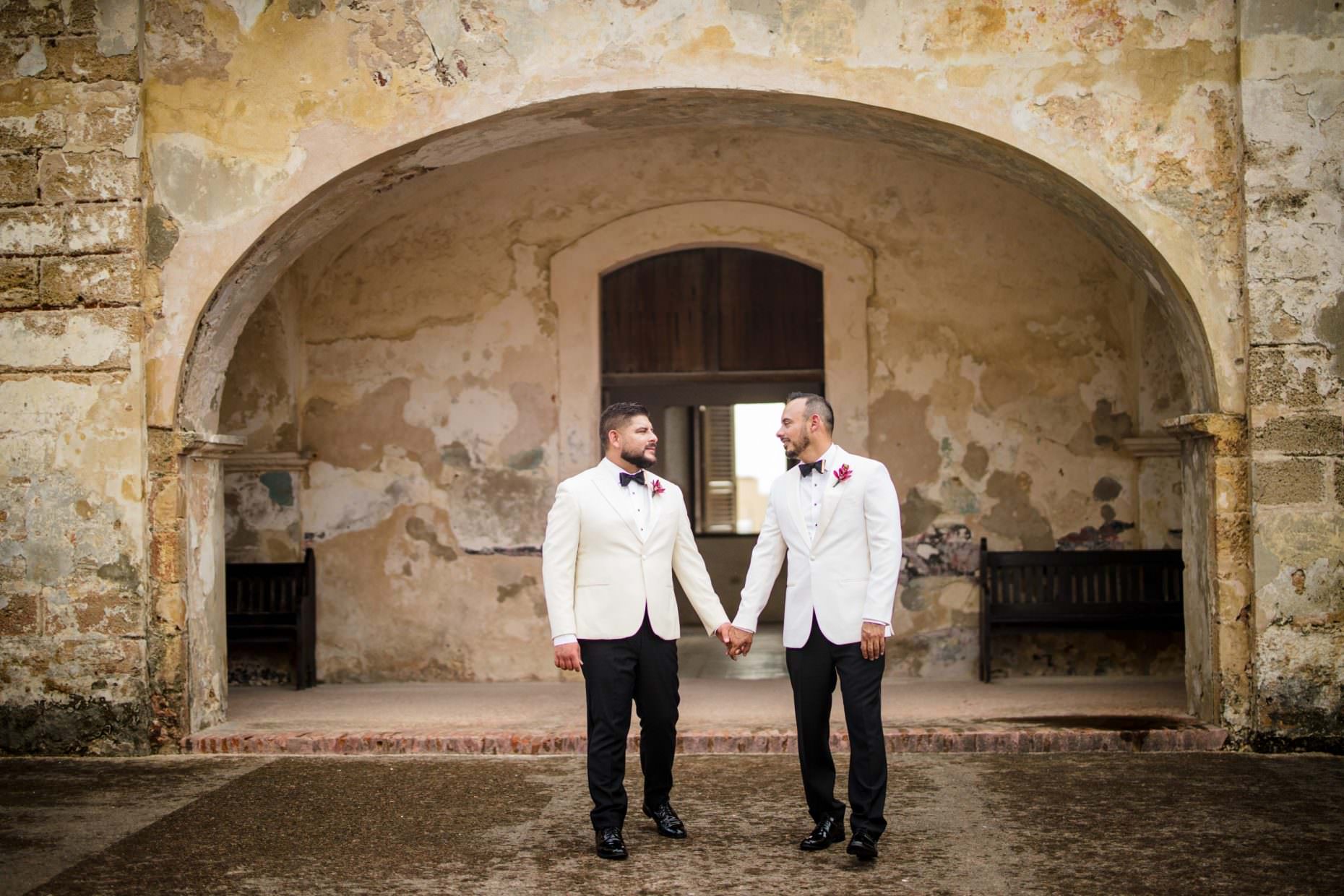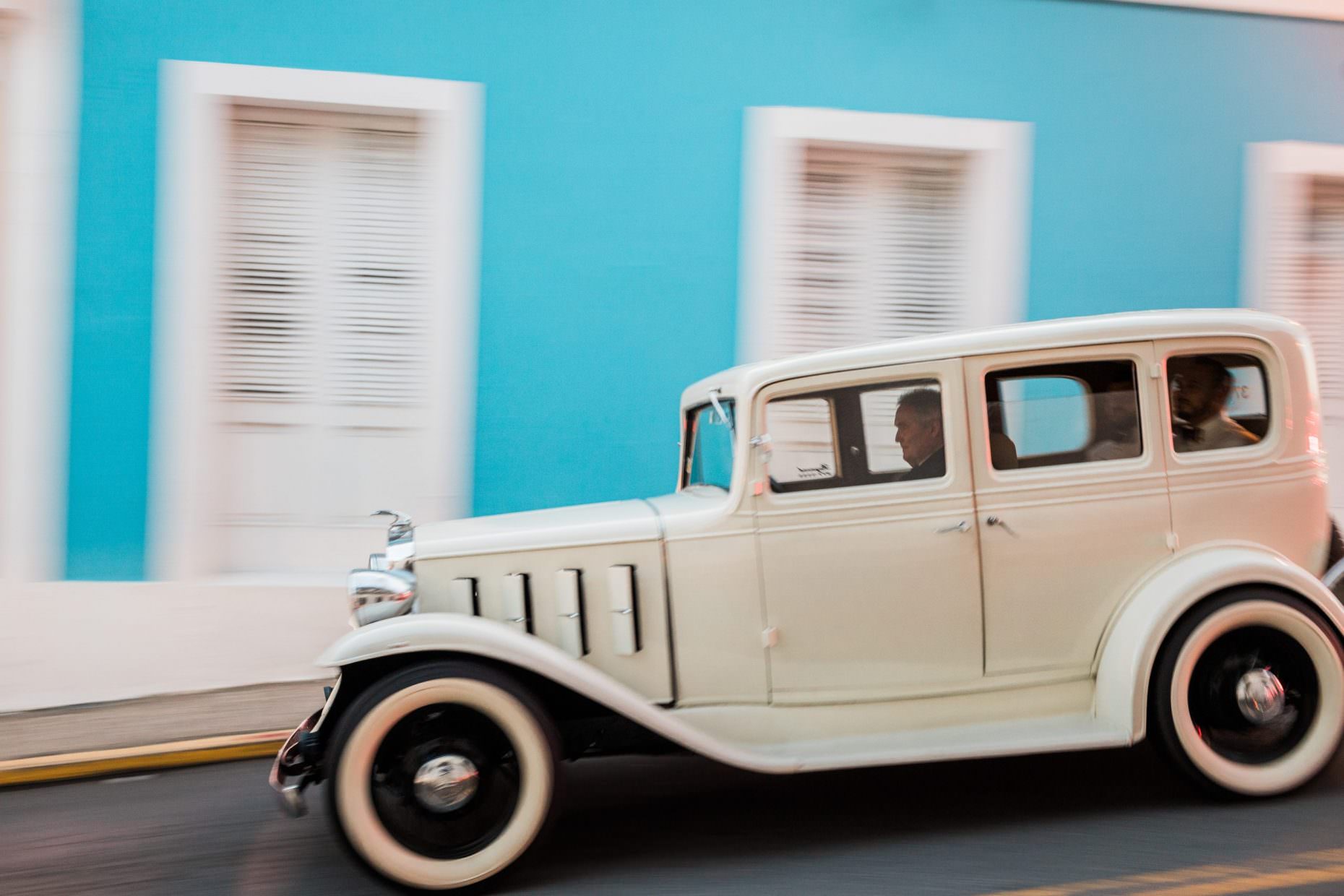 An Enchanting Wedding In Puerto Rico United This Couple's Love & Pride
They say what happens in Vegas, stays in Vegas. Well, that is of course, if you don't happen to meet the love of your life. What was supposed to be a weekend with friends playing softball, unexpectedly turned into a lifetime partnership for James Alva and Eddie Rodriguez.
"I knew that day that I would marry him," James gushed after the first time the two met. Within a few years, that statement rang true and the two grooms extended their union in front of hundreds of guests in San Juan, Puerto Rico.
"We both fell in love with the elegance and old-world classic charm," the couple explains on deciding to change the location from Los Angeles to the vibrant and historic beauty in Puerto Rico. "We wanted to bring our family and friends there to experience this 'island of enchantment', and so they too could also support the local economy after the hurricane."
Not only was James and Eddie's wedding an ode to classic charm and traditions, it was a bold statement of love of pride. Bringing together loved ones from all walks of life for a destination wedding takes precise attention to detail and patience. Luckily for this elegantly romantic weekend, all the cards fell in their favor and it was a grand, castle-like wedding just as they had envisioned. Azura invitations was honored and excited collaborate with James and Eddie with one-of-a kind gold foil acrylic invitations and unique wedding day details!
We reached out to the couple to get the inside scoop.
We met in Las Vegas, during a softball tournament. At the time I was living in San Francisco and Eddie was living in Los Angeles. How we met is actually a funny story. My friend invited me over to his hotel room to have a drink for his birthday, I was still all dirty from practice but went over anyway. When I knocked on the door, Eddie answered looking good and freshly showered. [Laughs] I was so embarrassed. I tried to start a conversation with him, but he wasn't showing any interest in me. Literally no eye contact and one-word responses, so I took that as my cue to leave. I hadn't even reached the elevator, and my friend sent me a text to come back to his room because Eddie liked me! I went back to the room, and I knew that day that I would marry him.
A few years later we went back to Las Vegas because we would go every year to celebrate the place where we met. I planned a romantic couple's weekend away, or so he thought, little did Eddie know that I had also arranged for both of our families to be there for the surprise engagement!  We had dinner at the Wynn Hotel that night and after dinner, we were supposed to go back to our hotel to change before going out later that night. I had it all planned with the Mandarin to have the lights nicely dimmed at the bar when we arrive so Eddie could not see our family when he walked into the small bar. But, almost as soon as we walked in, his eagle eye spotted our family anyway. [Laughs] He was very confused and as he walked over to me, my sister shoved the red Cartier ring box into my back. I just kept thinking, it's now or never. Before Eddie could turn around, I got down on one knee. The photographer started snapping a bunch of photos that blinded us and poor Eddie was in shock. I asked him to marry me, and he couldn't even process it. I had to ask him twice, and then he said yes!
We wanted a metropolitan style wedding that equally blended two cultures and two religions. It was important for us that our guests experience both cultures that we come from, and since we both love NYC and our families were in the area, we thought it would be the right place.
In the spring of 2018, we were busy looking for wedding venues in Los Angeles and needed a break, so we took a trip to Puerto Rico for a vacation. When we planned the trip, we would have never known that this would have been six months post a devastating hurricane. Despite the damage from the hurricane, we decided to go on our trip anyway. We fell in love with the island and the spirit of the people immediately. Rather than being sad about the damage, they were so thankful to still be alive and to live there. Everyone kept thanking us for coming, and people kept asking us to tell our friends and family that it was safe now to come and visit.  One day during our trip, we took a guided tour. The tour guide showed us a beautiful hotel that was being transformed for a wedding that evening. Eddie and I saw the wedding setup and both looked at each other with that look in our eyes like we were thinking and feeling the same thing. We spent the last day of our vacation hunting for wedding venues and the last place we saw that day was called the Antiguo Casino de Puerto Rico. We knew that we had to be married there.
Azure and Andaleeb were all amazing! Andaleeb created the most beautiful wedding invitation I have ever seen. The black acrylic invitation with gold foil was so chic and regal.  Everything from the sheen on the invitation to the thickness to the font and the design all screamed royalty. The custom box envelope was like nothing we had ever seen. So many people told us that they had never seen such a beautiful invitation. Most of our friends and family still have the invitation up on display as a keepsake. When we met with Andaleeb, she took the time to really understand our vision. She quickly got that we were looking for elegant, classy, masculine, and that wow factor. And boy did she deliver! When it came time for printing the wedding day stationery, we knew we had to work with Andaleeb and Azure again. Andaleeb knew that we wanted the escort cards to be beautiful and unique. She suggested the perfect solution with each escort card (black with gold foil) wrapped around a single stem red rose. The effect was powerful and memorable. Azure also printed our table numbers and menus. Each menu had the guest's names printed on them, and it made our guests feel really special.  Our guests kept saying that so much detail went into each element of our wedding, and so much of those details were tangible for our guests with the pieces created by Azure.
Can you tell us how the two of you met or the first interaction between the two of you?
Sounds like a "right place right time" type of moment for you two. Did the proposal come soon after?
Sounds like a "right place right time" type of moment for you two. Did the proposal come soon after?
How was it working with Azure? What did you love about the stationery details and ideas from Andaleeb?
What a beautiful and thoughtful proposal, and even more memorable to have your family welcome each other from the beginning. Were there any family traditions weaved into your wedding ceremony?
Eddie and I are both Mexican, but we were married in Puerto Rico. We incorporated a traditional Mexican lasso with a Puerto Rican twist. In Mexican culture, a lasso is used to signify unity between the two families. The historic tradition is that a special family member of the groom's would place the lasso onto the bride, and a special family member of the bride's would place the same connected lasso onto the groom. This signifies that the groom's family welcomes the bride into their family and vice versa. Since we had two grooms, my special cousin who is like a second mother to me placed the lasso on Eddie. Eddie's godmother, Nina, placed the same lasso on me. The lasso is quite large and connected via a figure eight to signify the infinite nature of the wedding. In addition, Eddie and his mom danced to the same song that his brother and mother danced to at his brother's wedding 16 years ago. "Ribbons in the Sky" by Stevie Wonder has become a tradition in Eddie's family. My mother and I danced to "Sweet Baby James" by James Taylor, which is how I got my name. Midway through that song though I surprised my mom and had "Sweet Baby James" fade out and "Volver Volver" by Vicente Fernandez fade in. This is a very traditional song in Mexico, and our guests – many of whom are Mexican – all started singing and clapping.
What an incredible way to give back and invite your loved ones to a beautiful and rich community. What was the biggest takeaway from the entire experience?
The biggest takeaway for me was that the day was pure magic. We were surrounded by so much love from so many people who had walked into our lives at various phases from elementary school, middle school, high school, college, grad school, professional circles, and family. The amount of love shown to us is something we will always remember.
Can you tell us about your rose place cards? How did that come together and how did guests respond?
Breathtaking. Memorable.  Wow. Amazing.  Unique.  Classy. What a first impression! The guests loved walking into the reception to be greeted by a sea of red rose escort cards. Each rose/place card was kept in an individual vase. We asked our guests to be dressed in black-tie and black and white only. The red roses added a pop of color, with so many of the ladies putting the roses in their hair and most of the gentlemen used the red roses as makeshift boutonnières.
Were there any guest reactions you would like to share?
Most of our guests had never been to a gay wedding, and we wanted to make sure that our guests had a good time and saw that a gay wedding could be just as fun and traditional as weddings they had come to know.
What we had not expected was the outpouring of love from our guests. People who had never met, found each other on the same flights to San Juan, and posted photos together. There was a flight attendant who asked on the intercom if anyone was going to James and Eddie's wedding and several people raised their hands. She gave them all free drinks and took photos with everyone. We even invited her to our wedding, and she came!
Our wedding brought people together who are now friends because of the wedding. So many people acknowledged that their first impression of how our wedding was going to be was when they received the invitation from Azure in their mailbox. The invitation was a "wow" statement piece. The invitations set the tone for the wedding and we felt that we had to live up to the expectations that the invitations conveyed. All of our guests commented regularly that the invitations were the most beautiful ones that they had ever seen, and we could not have agreed more!